Grand Champion Neuter Ch Tobenlee Moves Like Jagger CDX RA JD ET JC TKs ATD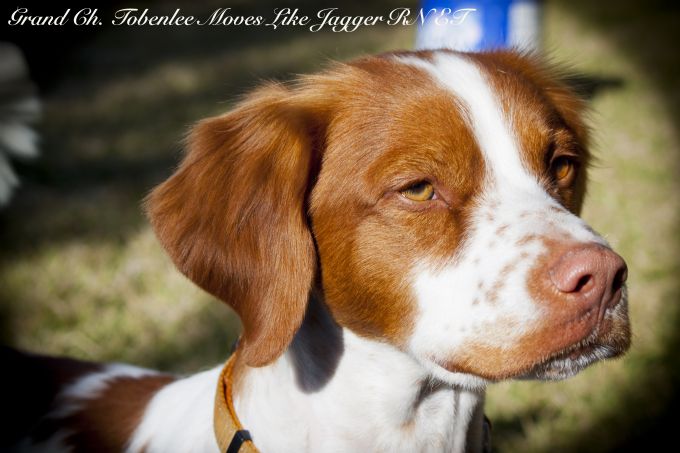 JAGGER
Hips 0/1 Elbows 0/0
Certified Eyes Clear Heart Normal
BISS/BIS/Australian Champion/American Champion Dogwood Hollow C I Can Dance
x
Australian Champion Tobenlee It Had To Be Me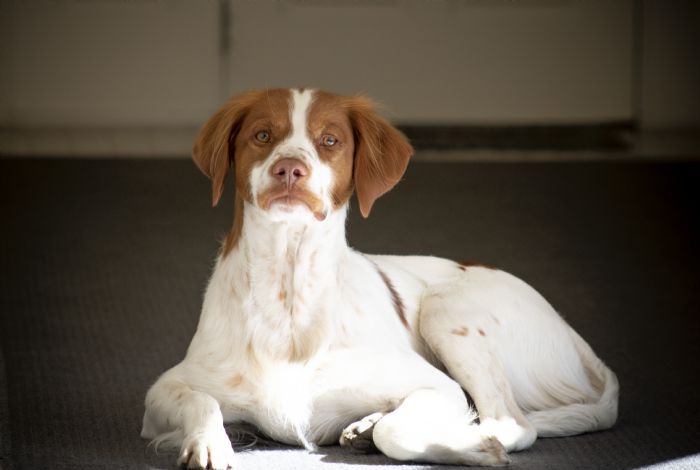 Jagger was my first Brittany and what a fantastic introduction to the breed. He came to live with us as an eight week old puppy in January 2013. He was bred by Fiona and Tony of Tobenlee Brittany Kennels in Victoria who knew that I wanted a dog who would first and foremost be my companion but I also wanted the dog to be suitable for show, obedience and other dog sports. Right from day one Jagger was everything I had hoped for and more. He is a stunning boy with a beautiful kind temperament. Jagger is high drive with energy to burn and he has an enviable zest for life, enjoying every minute of every day. He is a very clever dog with a BIG personality and even bigger heart.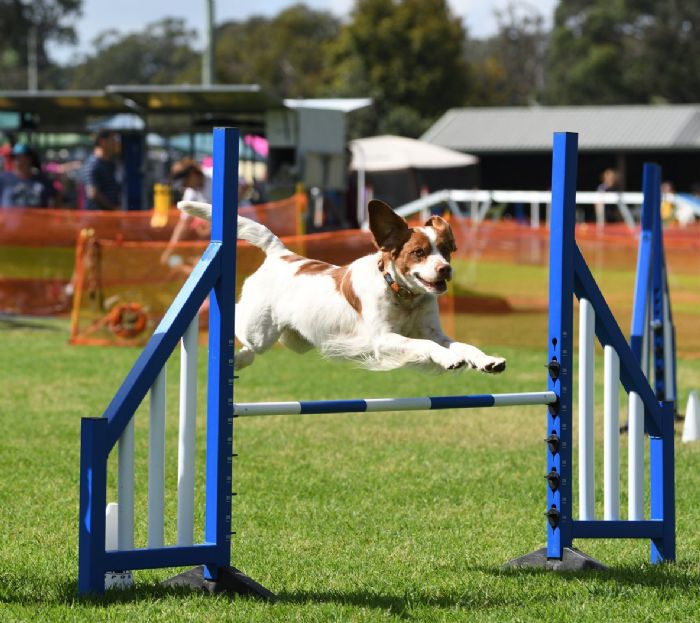 Jagger is a fabulous dog to show; a natural born show off with an 'it's all about me' attitude. He gained his Australian Champion Title easily and originally that was all I had intended to do with him as far as the showring but he and I have such a good time we kept showing and before I knew it in July 2015 he had his Australian Grand Champion Title.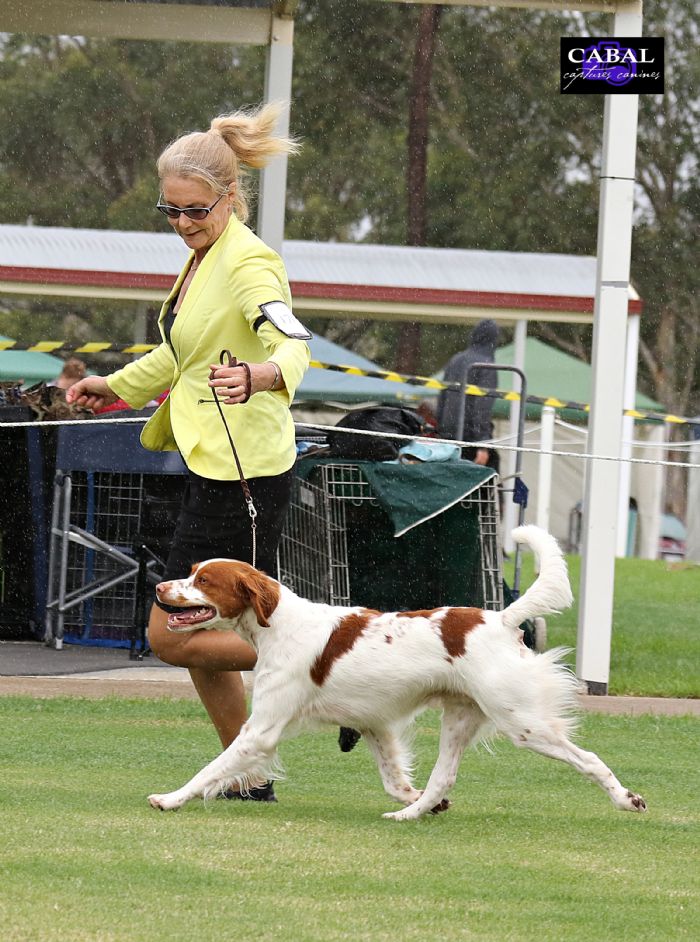 Jagger is proving himself to be true to the Brittany standard, 'a versatile dog', 'adapting itself to any environment'.
I have trained Jagger in Obedience, Rally O, Agilty, Endurance, Tracking, Tricks and Lure Coursing. He has his Rally Novice Title which he gained in fine style with 2nd place, 1st place (99pts) and another 1st place, his Rally Advanced Title, again he did not disappoint with 1st and 2nd placings. He passed his Endurance Test Title (this involves completing a 20km run and the dog passing several vet checks to assess fitness). He also has his CCD Obedience Title and once again he proved how well he can perform with 2 x 1st Place and 1 x 4th place. He has gone on to achieve his CD Obedience Title with 3 x 1st Place and his CDX title in 3 consecutive trials placing 3rd, 2nd and 1st. One of his CDX passes was at the Sydney Royal Dog show where Jagger was also awarded Best Neuter of Breed earning him the prestigious JACK GOLDSTEIN GOLD MEDALLION for excellence in Conformation and Obedience.
Jagger is the first and only Brittany to have every been awarded the Jack Goldstein Medallion.
Jagger and Samba were the first Brittanys in Australia to attain a Lure Coursing Title! I have also tracked with Jagger, he has a keen nose and loads of natural ability.
2014 Jagger Number 1 Brittany NSW and Number 4 Brittany Nationally.
2105 Jagger Best of Breed Sydney Royal Number 1 Brittany NSW Number 2 Nationally.

2017 Jagger - Best in Group, 3 x Runner Up to Best In Group, 4 Australian Bred in Group, 3 x Australian Bred in Show! To top that off he has attained a Lure Coursing Title, a couple of very nice Rally Advanced passes.
Number 1 Brittany NSW and Number 2 Brittany Nationally.
A son from his first litter, Lewis (Kirinbell Tell Me A Secret) is doing extremely well in the show ring in QLD. We could not be prouder of how Jagger is maturing both physically and performance wise.

2018 - Best in Group, 2 x Runner Up to Best In Group, numerous Class in Group wins, Rally Advanced Title, CD Obedience Title with 3 x 1st Place

Number 1 Brittany NSW and Number 2 Brittany Nationally.
2019 Jagger wins Best of Breed at Sydney Royal Dog Show and earns his first Agility Titles

2019 Number 2 Brittany Show Dog of the Year NSW

2019 Number 3 Brittany Breed Challenge Competition NSW

Late 2020 Jagger returned to the show ring in Neuter class where he is having the time of his life! He was awarded his Neuter Championship in record time. He is a Multi Best Neuter In Show, Multi Runner Up Neuter In Show and Multi Best Neuter in Group winner.

2021 Jagger is Best of Neuter of Breed at Sydney Royal Dog Show. He finishes the year No. 1 Neuter Gundog in NSW and No.1 Neuter Brittany NSW

2022 Sydney Royal Dog show Jagger is awarded the prestigious JACK GOLDSTEIN GOLD MEDALLION for excellence in Conformation and Obedience.
Jagger is the first and only Brittany to have every been awarded the Jack Goldstein Medallion

JAGGER has been awarded 12 TITLES OVER 7 DIFFERENT DISCIPLINES! What can we say ... WOW! Jagger is a once in a lifetime dog.... I love him to the moon and back xx

Some of Jagger's special achievements:-
28th April 2019
Best of Breed and BEST OPEN IN GROUP
Hills Dog Club (Judge Mrs P Hartwell NSW)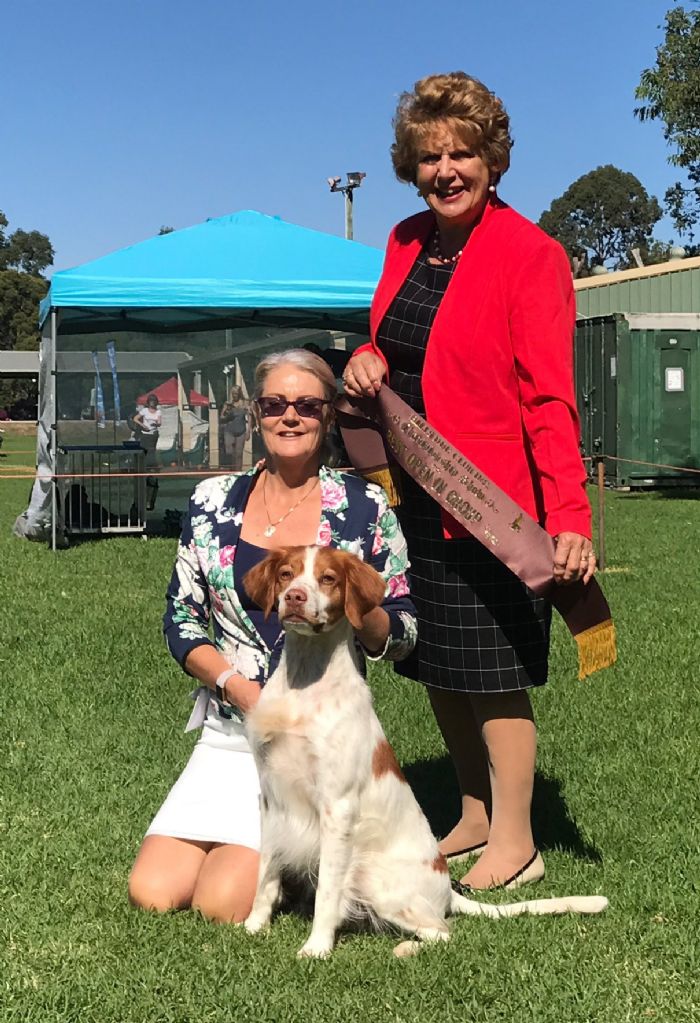 16th April 2019
BEST OF BREED - Sydney Royal Dog Show
Judge Mrs Haruko Mizukoshi (Japan)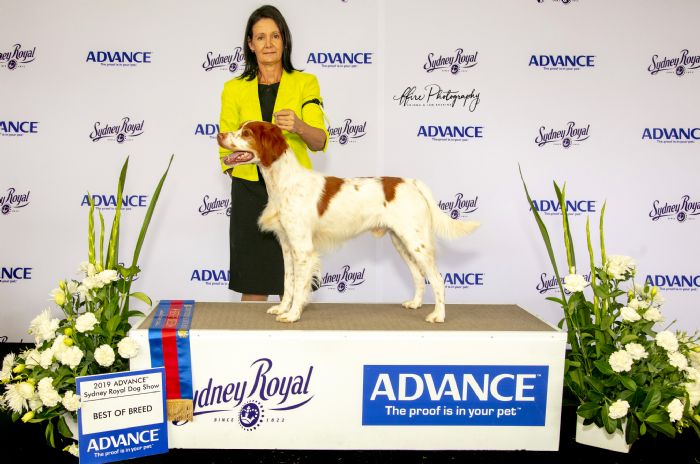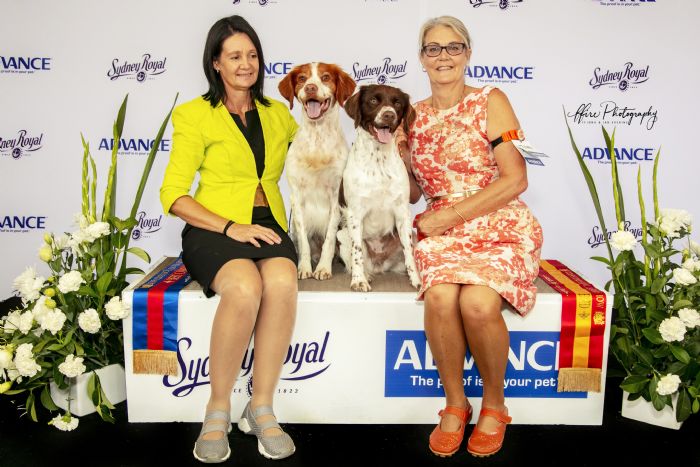 3rd February 2019
RUNNER UP BEST EXHIBIT IN GROUP & BEST OPEN EXHIBIT IN GROUP
Novocastrian Ladies Canine Association Show (Judge was Mr Les Bradney NSW)
28th October 2018 Jumping Dog 500 Qualification
Agility Dog Club of NSW [TR] (Judge was Miss Michelle Tunbridge)
21st October 2018 1st Place Novice Obedience
Port Macquarie Hastings K&OC [OB] (Judge was Mrs T Knox NSW)
19th September 2018 1st Place Novice Obedience 195/200
Metropolitan Mid Week DTC Obedience Trial [OB] (Judge was Mr J Spiteri)
5th September 2018 RUNNER TO BEST EXHIBIT IN GROUP
West Wyalong Show Society [CH] (Judge was Ms C Stuart)
1st July 2018 Australian Bred In Group
Riverina District All Breeds Kennel Club (Judge was Mrs L Niemann SA)
30th June 2018 Australian Bred In Group
Riverina District All Breeds Kennel Club (Judge was Mr A Fry VIC)
1st June 2018 RUNNER UP TO BEST EXHIBIT IN GROUP
Newcastle and Northern District Kennel Club (Judge was Mrs C McGreevey QLD)
3rd March 2018 BEST EXHIBIT IN GROUP & AUSTRALIAN BRED IN GROUP
Braidwood Show Society (Judge was Mrs Joan Bray NSW)
27th January 2018 Australian Bred In Group
Manly & District K&DTC Championship Show (Judge was Mrs Pauline Hartwell NSW)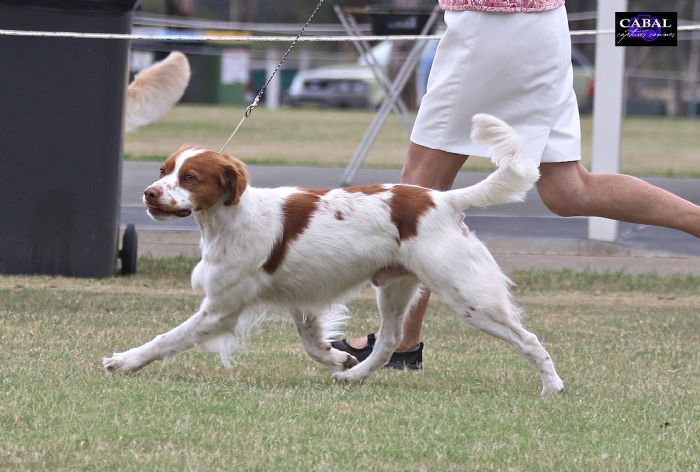 14 Oct-17 Australian Bred IN SPECIALTY SHOW
Utility Gundog Club NSW (Judge was Ms Sarah Strang NSW)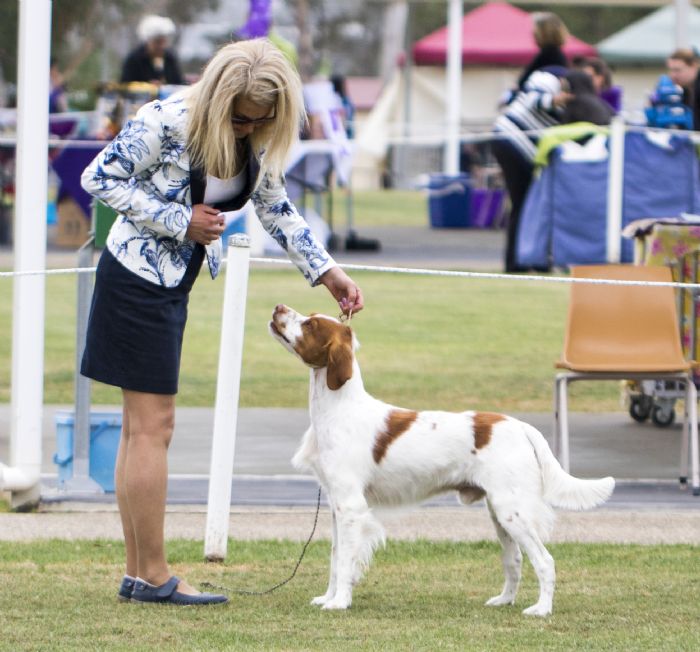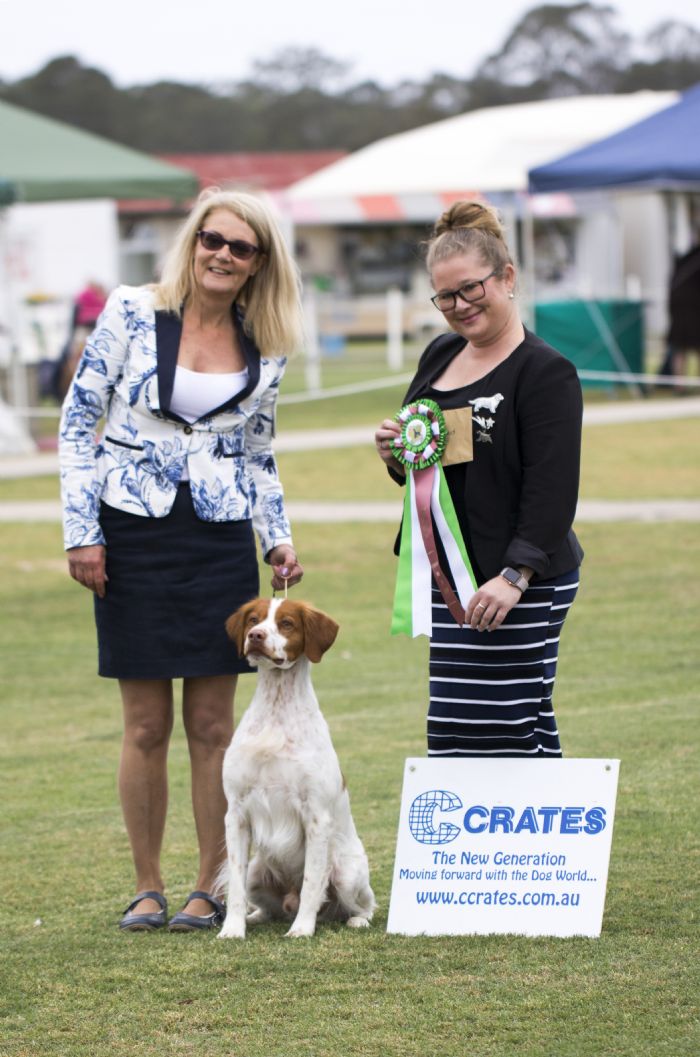 22 JUL-17 BEST IN GROUP
Brunswick Valley Kennel Club (Judge was Mr Arthur Fry VIC)
22 JUL-17 Australian Bred IN SHOW
Brunswick Valley Kennel Club (Judge was Mrs L Brown NSW)
18 Mar-17 Australian Bred IN SHOW
Tweed River Canine Club (Judge was Mr Michael Derbyshire NSW)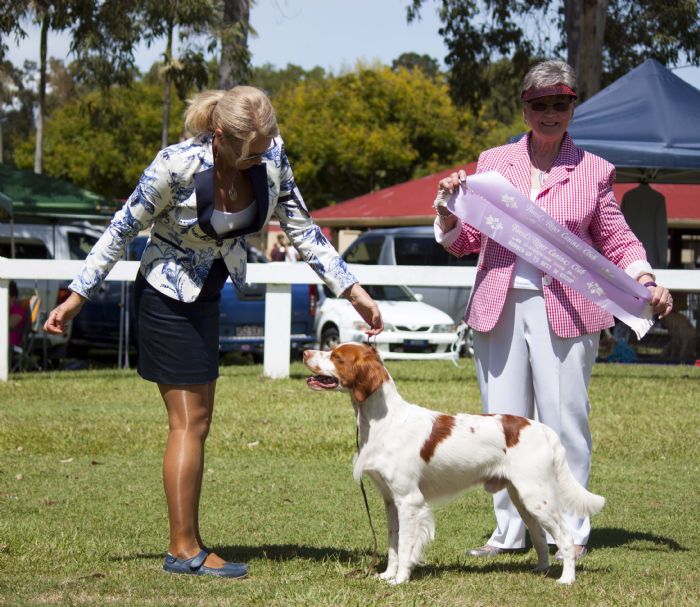 18 Mar-17 Runner Up to Best in Group
Tweed River Canine Club (Judge was Mrs J Horton VIC)
17 Mar-17 Runner Up to Best in Group
Tweed River Canine Club (Judge was Mr Michael Derbyshire NSW)
Jun-15 Australian Bred in Group
Newcastle & Merewether Canine Club (Judge was Mrs N Harris VIC)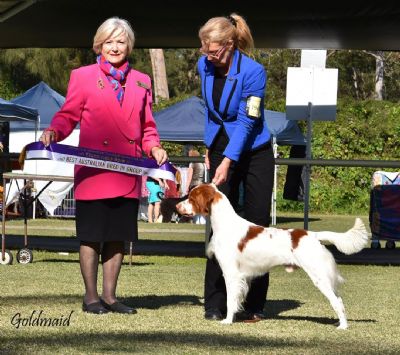 26-Mar-15 Best of Breed
Sydney Royal Dog Show (Judge was Mr Manual Queijeiro Mexico)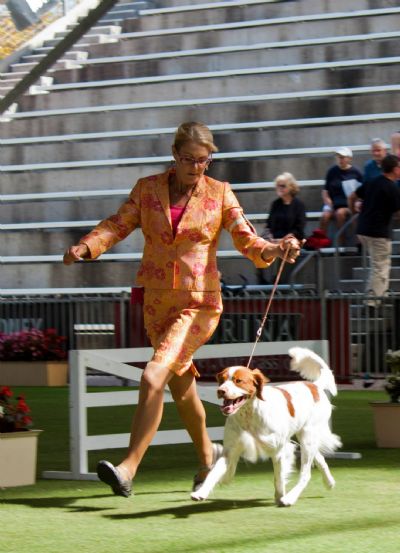 7-Mar-15 Intermediate in Group
Blayney A&P Association (Judge was Ms K Santas NSW)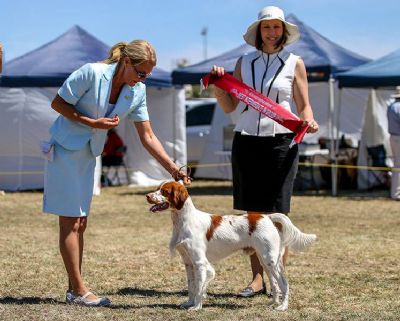 8-Mar-14 Best Junior in Group
Blacktown Kennel & Training Club Inc (Judge was Mrs P Hartwell NSW)

2-Mar-14 Best Junior in Group
Medowie & Dist. All Breeds Kennel Club (Judge was Mrs D Jacoby VIC)

21-Feb-14 Best Junior in Group
Novocastrian Ladies Canine Association (Judge was Mrs P Hall NSW)

25-Oct-13 Best Puppy in Group
Illawarra & South Eastern Region Ch Show (Judge was Mrs J Ireland QLD)

20-Sep-13 Best Puppy in Group
Coffs Harbour District ABKC Ch Show (Judge was Mrs K King SA)

16-Aug-13 Best Puppy in Group
Bay City All Breeds Kennel Club (Judge was Mrs E Joseph VIC)

5-Aug-13 Minor Puppy in Group
Dubbo & District Kennel Club Inc (Judge was Mr A McQuire QLD)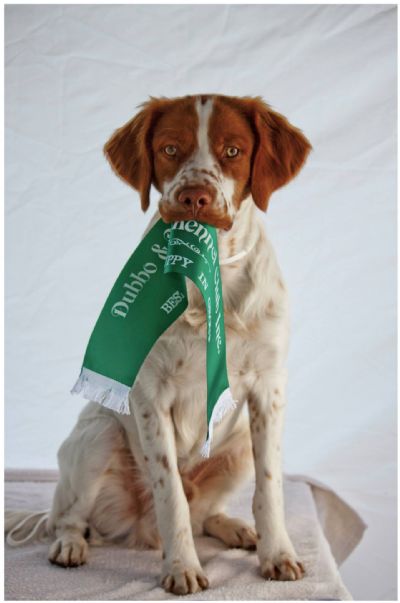 3-Aug-13 Minor Puppy in Group
Dubbo & District Kennel Club Inc (Judge was Mrs B Skilton)
Contact Details
Samantha Ibbott-Cordi
Sydney, NSW, Australia
Phone : 0419695206
Email :
[email protected]